STATEMENT REGARDING COVID-19 AS WE CONTINUE PROVIDING LEGAL SERVICES
Snider & Horner remains committed to providing legal services with little interruption. We will keep you updated as to government mandates regarding our Court system(s) that apply to your case, and will be available for you regarding any needs you have. Our attorneys and staff are on duty. We expect little to no business interruption on our end, but we understand that your work and the ability to work with us may be impacted by business closures, personal health matters, and care and concern for family and friends.
Recently, the Tennessee Supreme Court has suspended all in-person court appearances, so if your case had a scheduled court date in March, it will be rescheduled.
We have created a plan to continue assisting you in all legal matters. We remain open for business. If you are not able to reach any Snider & Horner employee due to an unexpected office closure or other failure of communication, please email one of our Litigation Coordinators, Madison McCracken (mmccracken@kevinsnider.com) or Misty Dotson (mdotson@kevinsnider.com).
We are offering telephone consultations for those with upcoming scheduled appointments with us and for new potential clients. If you have an in-person consultation scheduled, please let us know if you prefer a telephone conference and we will be happy to accommodate you.
The best source of communication with all Snider & Horner personnel is via email, but please feel free to reach out to us however you are most comfortable.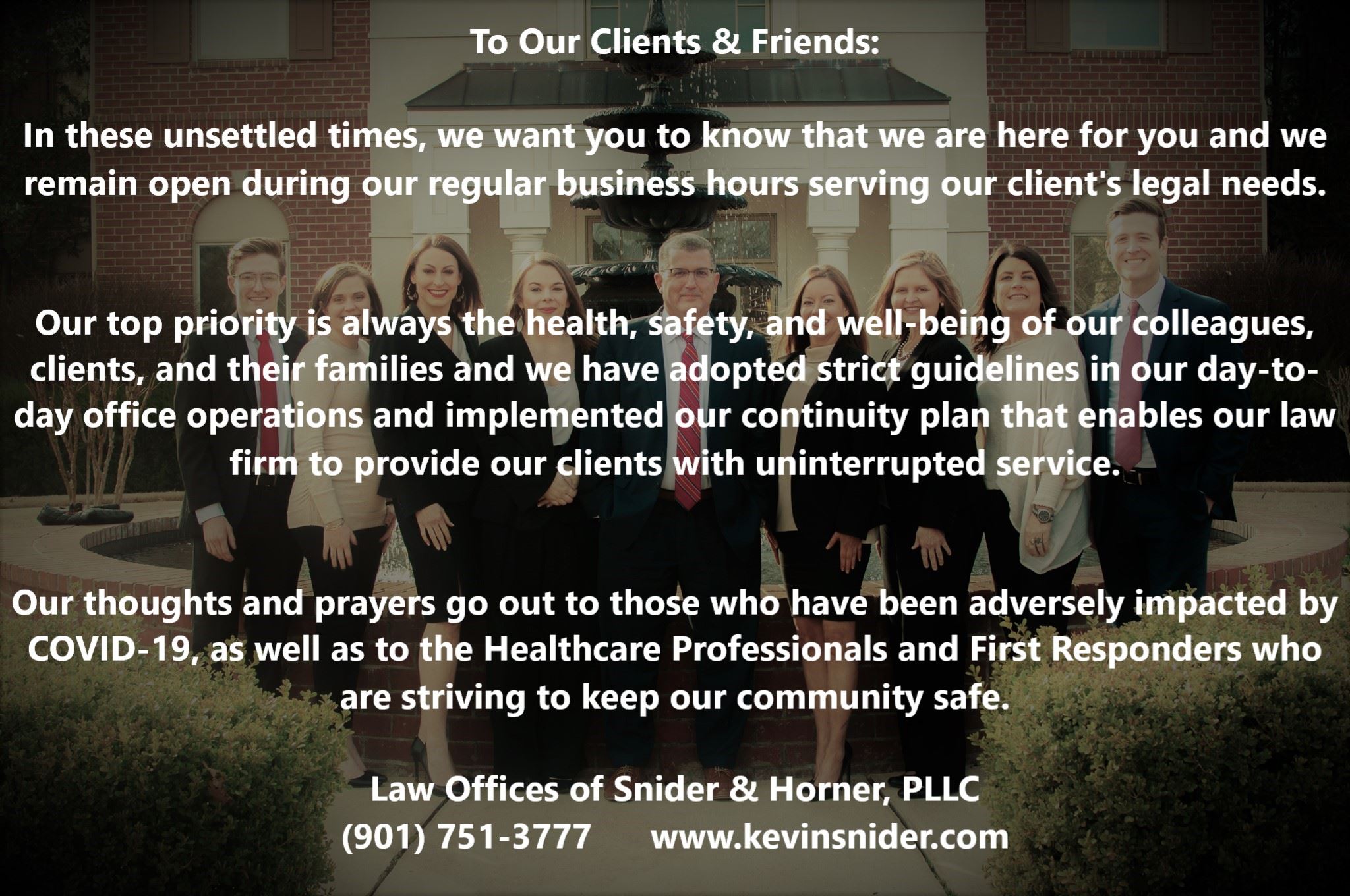 To Our Clients & Friends:
In these unsettled times, we want you to know that we are here for you and we remain open during our regular business hours serving our client's legal needs.
Our top priority is always the health, safety, and well-being of our colleagues, clients, and their families and we have adopted strict guidelines in our day-to-day office operations and implemented our continuity plan that enables our law firm to provide our clients with uninterrupted service.
Our thoughts and prayers go out to those who have been adversely impacted by COVID-19, as well as to the Healthcare Professionals and First Responders who are striving to keep our community safe.